---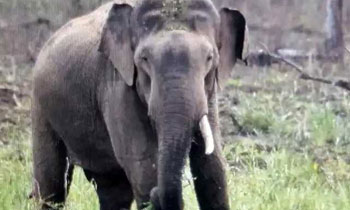 The Yala National Park today confirmed that the majestic tusker known as Gemunu in the sanctuary had lost one of its tusks following an attack by two other single tuskers a few days ago.
According to Yala National Park officials, Gemunu had been attacked at the Sandun Oruwa area near Menik River.
The well-known tusker Gemunu, had earned the reputation of getting close to safari jeeps in search of food.
Speaking to the Daily Mirror, Deputy Park Warden Ranjith Sisira Kumara who was attached to the Yala Range-II said the tusker was attacked by tuskers known as Sando and Perakum, who are also, interestingly, single tuskers.
According to Yala Wild life database, records indicate that there are five single tuskers living in the sanctuary and them always known to be violent and try to attack others.
"The first three months of each year, elephants come out from the deep jungle for mating and for foods. Several herds come out from the jungle and single tusker elephants also follow them," Mr Sisira Kumara said.
During the mating season, many single tuskers mostly males challenge other males.
A special team had been sent to the scene in-search for the broken tusk. (Chaturanga Samarawicrama)