---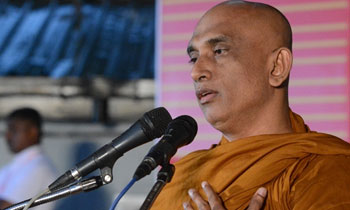 MP Ven. Athuraliye Rathana Thera, who is in the centre of a controversy over his recent statement that he would act as an independent member in Parliament, said yesterday that he would not leave the present government.
He said there is no need for him to leave the government as he wished to get what he wanted done with the help of the government.
Speaking at a harvest reaping function of a paddy field where organic fertilizer had been used instead of chemical fertilizer, the Thera stated that Sri Lanka could save more than Rs. 100 billion for a year by using organic fertilizer.
"Medicinal drug production in the country is also in the same state. Bangladesh and Pakistan produce their own medicine. Why is it not possible for us? We have competent scientists, and our minister has set the initiative. A few similar achievements would bring the country out of present chaos," Thera said. (Bandu Thambawita and S. Madawala)