---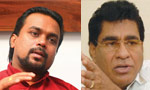 Former Minister Mervyn Silva's formation of the 'actual joint opposition' was a pre-Vesak mask performance scripted by President Maithripala Sirisena, the National Freedom Party (NFF) claimed yesterday.
Addressing a media briefing, NFF leader Wimal Weerawansa said the government had started to present Vesak mask performances even before the dawn of Vesak.
"Such a dance was staged at Kelaniya by using a banner which bears the name of the joint opposition," he added.
Mr. Weerawansa said he requested the President to refrain from making comics despite a situation where the people were unbearably burdened.
Responding to a media query, regarding the possibility of Mr. Silva joining hands with the joint opposition, Mr. Weerawansa said that would never happen.
"We have never thought of such unification. Even Mr. Silva has not asked for it," he added.
(Kalathma Jayawardhane)
Video by Richan