---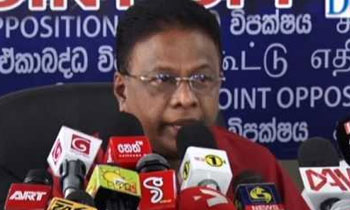 The Joint Opposition would intervene to form a Government against the UNP, JO MP Dullas Alahapperuma said today. However, he said that the JO would not participate in it.
Addressing the weekly news briefing, JO National Organiser MP Dullas Alahapperuma said the UPFA had expressed that it would form one of its own Government without the UNP in it.
"We don't know how they would do it. We are not aware of the mechanism. However, if this is possible, we will intervene in the formation of an anti-UNP Government but won't take part in it. Our objective is not to send away former President Mahinda Rajapaksa to another faction to create a Government but to bring the Government to Mr Rajapaksa," he said.
However, he said reports that the UNP and UPFA would break away from the Unity Government were unconvincing and seemed like scripted.
"This is a creation by the Government to divert the attention from the mounting people's opposition against it. The two factions parted ways before the Local Government (LG) election, would rejoin without a delay," he said.
Meanwhile, he said Speaker Karu Jayasuriya should recognise the Joint Opposition as the official Opposition in Parliament.
"We are the only faction in Parliament which has not accepted any portfolios. We are not even a part of the Government. A 10 % of Ministers in the Cabinet and 20 % of Parliamentarians do not have a people's mandate.
"The present Opposition was appointed through the back door. However, people voted overwhelmingly for us at the election defeating all other parties at the LG polls. Therefore, at least now, we should be given our due place in Parliament. We request Speaker to recognise us as the official Opposition and hope to meet him in person next week in this regard," he said. (Lahiru Pothmulla)
Video by Sanjeewa