---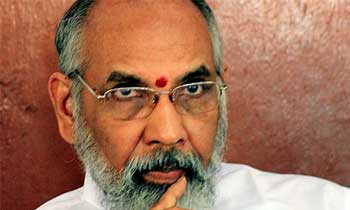 With the EPRLF led by former MP Suresh Premachandran deciding to contest future elections on its own, NPC Chief Minister C.V. Wigneswaran today urged Tamil leaders, who were over 60 years, to move aside and allow the younger generation to take up politics.
Incidentally, the Eelam People's Revolutionary Liberation Front (EPRLF) is one of the original constituent parties of the Tamil National Alliance (TNA)
Mr. Wigneswaran, who himself has been challenging the TNA leadership by forming his own Tamil People's Council (TPC) two years ago, said the current leaders of the Tamil community must guide what he described as the great Tamil political machinery from behind the scenes.
He said the Tamil leadership was continuing to cling to its positions by various means and argued that next phase of the Tamil leadership had to be identified right away so that they could gain in political acumen and experience.
The former Supreme Court judge told a special meeting of the TPC held at the Jaffna Library auditorium, that what the Tamil people demanded from their political leaders were not privileges, but their rights.
He called on the Tamil political parties to select untainted candidates for the forthcoming local government elections scheduled to be held in January next year.
Explaining the TPC's track record during the past two years, the CM said the TPC had changed the mindset of some political parties from, "we will accept what we are given" to "we will demand what our people want".
He said the government should not think that Tamils should be given any thing more just because they were prepared to accept less.