---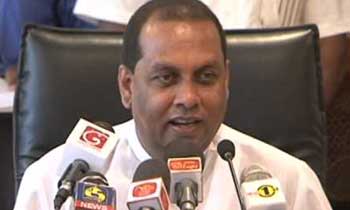 Minister of Fisheries and Aquatic Resources Mahinda Amaraweera said that he did not believe that anybody would have to bring in a No-Faith Motion against Minister Ravi Karunanayake, who is in the midst of a controversy over the Central Bank bond scam as what were to be done would be done before that.
However, he said that he had got to know about the MPs of United National Party having talked to the PM regarding a decision to be taken with regard to Minister Karunanayake.
"I am the person who complained first with regard to Bond Scam. There are many owners today in this regard. But I must tell that I am the first complainant," he stated.
He said that a decision had been taken to hold the Local Government Elections at the end of this year.
The Minister was responding to the questions raised by journalists when he came to inaugurate the housing scheme which is constructed in the island of Keeramandan in Kalpitiya.
"We think the Local Government Elections should be held before end of this year. That is why we are going from electorate to electorate all over the island to organise the necessary arrangements," he added. (Jude Samantha)