---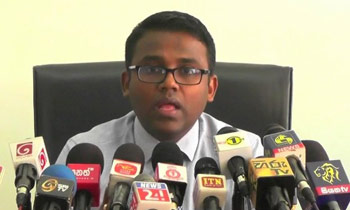 While commenting of the Health Ministry's decision to take the Neville Fernando Teaching Hospital (NFTH) under its purview, the Government Medical Officers' Association (GMOA) yesterday said it was demanding a solution to the issue involving the SAITM, and not the NFTH; "The SAITM is just a part of NFTH," it added.
However, it stated that they were yet to officially receive the decisions made by the Higher Education Ministry regarding the issue of South Asian Institute of Technology and Medicine (SAITM) in Malabe.
GMOA Media Spokesman Dr. Samantha Ananda told the Daily Mirror that they would only be able to make a statement on the decisions once they receive them officially by the ministry. He also said that the ministry had still not made any official information to them about those decisions.
"We have clearly made 5 demands on the issue. The Higher Education Minister should inform Courts that the SAITM does not have the compliance certificate to offer medical degree. The government should also implement the directives made by the commission appointed by the former health minister to discontinue the medical degree offering by the SAITM," he said.
He said according to the GMOA's demands the government should issue a gazette notification on the minimum standards of the medical education and added that a presidential committee should appointed to offer a justice to the students who were studying at the SAITM. He also said another demand of them was to nationalize the SAITM.
However, he said they were fighting against the SAITM to fulfill these demands and added that they have made these demands with the consent of the Medical Faculty Deans, university teachers and lecturers. (Kalathma Jayawardhane)