---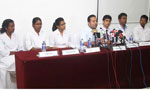 Students' Union of the first batch to graduate from the South Asian Institute of Technology and Medicine (SAITM) said today they too deserve to serve as doctors in Sri Lanka and underscored their competency as being on par with those from State medical faculties.
At a media conference the union representatives rejected media reports and allegations debasing their medical degree.
They said it was disappointing that the Government Medical Officers' Association (GMOA) and other groups continued to make baseless allegations against SAITM without having a proper understanding of the real situation.
The union said the Government had failed to provide an opportunity to a majority of those who had passed the GCE A/L exam to study for the medical degree. It emphasized the need for government support for SAITM and other private sector medical college.
Piranaby Varathan, a 3rd year SAITM student said they were hurt by claims made by outsiders about their university and their education, because they work so hard to realize their dream to become doctors as much as students who study at state universities.
"We are happy and proud to say studied at SAITM, the only place to provide us opportunity to serve our motherland as doctors. If not for SAITM we would have gone aboard for medical studies. We want to serve our country and our people. Those who point fingers at SAITM do not do not care about the real situation. It hurts us because we know how difficult for our parents to send us here," he said.
Tharindu Ruwan pathiranage a SAITM graduate said they were not stupid to jeopardise their education and their lives by joining SAITM.
To a question asked by a journalist he said as far as they were concerned SAITM had not received any news of the Government nationalising the institution. (Piyumi Fonseka )
Video by Buddhi