---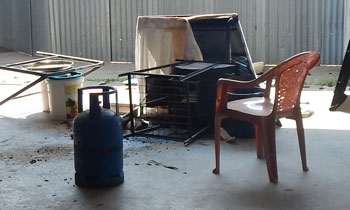 Western Province Council (WPC) UPFA member Janaka Weliwatte yesterday objected to having a Barbeque lunch at the council premises and overturned the Barbeque grill, and some tables and chairs.
Weliwatte thereafter had lied down inside the restaurant of the council insisting that he would not get up until the cost of this extravagant lunch was revealed.
As this was the final meeting of the council chaired by the Chairman Sunil Wijerathna before the Sinhala and Hindu New Year, a special lunch had been organized for the Councillors, staff and the journalists at the restaurant of the council, there had been two Barbeque grills with meat being cooked from morning.
The smoke that had emitted from the two burners had covered the entire meeting hall and outside area. This was continuing with the ongoing debate of the council on private universities.
Weliwatte who resented this type of preparations for the special lunch, had overturned the Barbeque Grill and some tables, demanding who had organized this sort of thing and what is the cost of it.
He refused to get up from the place where he was lying until they inform the cost of this Barbeque. Some crockery and the cutlery that had been brought in for the lunch was also damaged. (Muditha Dayananda)