---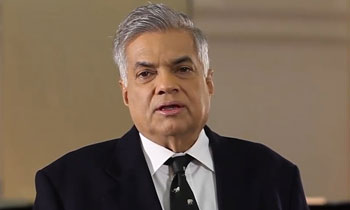 Prime Minister Ranil Wickremesinghe today stressed the need to save the country's agriculture sector which had already suffered a minus growth in the face of climatic changes and assured that the country's food security would be maintained despite the adverse conditions.
He said international institutions such as the World Bank had warned of serious consequences of climate change. "The impact of climate change will be channeled primarily through the water cycle, with consequences that could be large and uneven across the globe. Water related climate risks cascade through food, energy, urban, and environmental systems," he said quoting a recent World Bank report.
The Prime Minister said the adverse weather conditions have already reduced growth of the agriculture sector to 1.2 per cent and only 10,712 hectares of vegetables were grown during the 'Yala' season though 47,980 hectares of such vegetables were grown usually during a given season. He said low country vegetables had also suffered the same fate and only 19,000 hectares of low country vegetables were grown in the 'Yala' season though usually, 32,216 hectares were cultivated.
"We are not making excuses and are ready to take up the responsibility of ensuring food security. However it is important to explain the reality to the nation," the Premier said.
Referring to the setback suffered by coconut production, he said by May next year, the country's coconut shortage would reach 195 million.
"These setbacks in the agricultural industry will definitely take its toll on the economic growth as a whole. I intend to meet the officials of international agencies, agricultural officers, farmers and other stake holders in the agricultural sector to decide on the steps that have to be taken to safeguard the industry and the economy as a whole," the Premier said. "The government has taken steps to import rice and other essential items such as coconut kernels. A cabinet sub-committee comprising ministers Patali Champika Ranawaka, Susil Premajayantha and Anura Priyadarshana Yapa was formed to control the cost of living. Control prices have been introduced for rice and the maximum wholesale price of Nadu rice is Rs.65 and the retail price Rs.74, wholesale price of samba is Rs.59 per kg and the retail price Rs.65 while the wholesale price of Kekulu rice is Rs.72 while the retail price is be Rs.78. Rice will be imported by SATHOSA while private traders will also be permitted to import."
He said the import of rice would have to be carried out only up to April 2018 because the situation is expected to improve by then and the challenges faced by the 'private sector-dominated' distribution network would be overcome.
Joint opposition parliamentary group leader Dinesh Gunawardene said the wastage of vegetables is almost 30 per cent and is a result of poor storage facilities. The Prime Minister said storage facilities would be improved. (Yohan Perera and Ajith Siriwardana)