---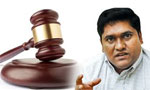 Colombo Additional Magistrate Chandana Kalansooriya today acquitted the JVP MP Vijitha Herath from the drunken driving charge in the inquiry conducted against him over the accident that took place on May 30 in the Rajagiriya area.
The Welikada Police had filed three charges against him-reckless driving, not preventing a possible accident and drunken driving.
The Magistrate acquitted the suspect from the third charge, since it was apparently not possible to continue as a proper allegation.
However, the Additional Judicial Medical Officer, K.K. Joozar, had mentioned in his Legal Medical Examination Form that the suspect's breath, smelled of alcohol at the time of the examination, but the JMO had not mentioned that the suspect was under the influence of alcohol.
The Magistrate considering a precedent, Sumanaratne Vs Borella OIC, stated that it was not sufficient that the 'breath, smelling of alcohol' to be regarded as 'under the influence of alcohol' to continue with the litigation under the charge of drunken driving.
After pleading guilty to the rest of the charges, the suspect was ordered to pay a Crown Cost of 1500 Rupees over the other charges, for which he was convicted by the Magistrate.
The suspect also agreed to pay Rs. 17,423 to the damaged property of Telecom post in the accident.
Mr. Herath was arrested by the Welikada Police on Monday night, and released on police bail later for crashing onto a telecom post in Rajagiriya. (Shehan Chamika Silva)