---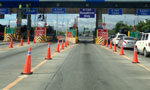 A van crashed through and exited at the Godagama exit point on the Southern Expressway (E01) early this morning, Deputy Director of the Southern Expressway Traffic Operation Centre R.A.D. Kahatpitiya said
"The van was travelling at a speed of 100 Kmph at the time of the incident," he said.
"The gate was destroyed and the driver had no idea to stop the vehicle at the gate," he said.
"We have the CCTV footage of the fled vehicle and the vehicle had been identified. The Expressway Traffic had given the details to the Dodangoda Police. The van had entered from the Dodangoda entry point," Kahatpitiya said.
The Police had traced the owner and ordered him to pay the damages.
The toll road officials said they suspected contraband could have been transported on the van. (Chaturanga Pradeep)