---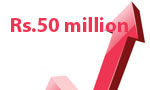 The Value Added Tax (VAT) threshold on retail and wholesale outlets have been increased to Rs.50 million a year from the earlier threshold of Rs.12 million in the VAT Amendment Bill which was approved by the Cabinet yesterday.
Finance Ministry sources said the small and medium scale shop owners will not be affected as a result of this amendment while hospital, OPD and laboratory charges will be exempted from VAT.
However, the 15 per cent increase introduced earlier this year has not been changed in the new Bill.
Meanwhile, the Secretary of the Cabinet Sub Committee on Cost of Living, T M K Tennekoon said the maximum retail price introduced for 16 essential items would not be changed despite the VAT Amendment. As such the maximum retail price of red dhal will remain at Rs.169 a kilo, Thai sprats at Rs.495 a kilo, Dubai Sprats Rs.407, imported Chick Pieces Rs.220, canned fish Rs.140, Sugar Rs.95, wheat flour Rs.87, a 1kg tin of imported milk powder Rs.810 and 1kg tin of local milk powder Rs.735. The maximum retail price of sugar will remain at Rs.95 a kilo, imported big onion at Rs.78 a kilo, the price of Katta dried fish Rs.110 a kilo, Salaya fish Rs.425 a kilo and Maldive fish Rs.1,500 a kilo. The price of a tin of Sustagen will remain at Rs,1,500.
Mr Tennekoon said the Consumer Affairs Authority (CAA) received some 80 complaints daily on the charging of VAT on exempted items on selling goods at a higher price than the maximum stipulated prices gazetted on August 25 this year. (Yohan Perera)