---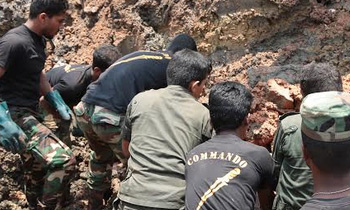 The Finance Ministry a short while ago clarified that the amount of Rs.100,000 which will be awarded to the family members of those who perished in Meethotamulla mishap was an insurance payment and not compensation.
Issuing a second communiqué, it said the money will be paid as a result of the insurance scheme which was obtained by the Ministry via the National Insurance Trust Fund (NITF).
Apart from this insurance payment, the Treasury will release funds to the relevant authorities without a delay once a final decision was taken with regard to providing compensation to the Meethotamulla victims, it said.
Accordingly, up to Rs. 2.5 million will be paid as an insurance payment for the properties which were damaged in the mishap.
Earlier, the ministry announced compensation will be paid to the next of kin for each of those who perished in the Meethotamulla tragedy.
Finance Minister Ravi Karunanayake said in 2016 the Government had introduced an insurance scheme through the National Insurance Trust Fund as a proactive measure for the payment of compensation to victims of natural disasters.
"This has made it easier for the government to pay compensation," he said.
The finance ministry said the Treasury had released funds for relief measures such as the provision of cooked food to those affected and assured that the Government would take steps to rebuild damaged houses or to relocate the victims at safer locations.
Meanwhile, Megapolis and Western Development Minister Patali Champika Ranawaka said that housing units at housing complexes in Colombo could be given to the victims whose houses were destroyed.