---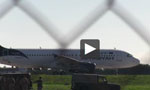 Two hijackers with hand grenades are threatening to blow up a Libyan passenger plane that was diverted from the north African country to Malta, state TV said.
The Airbus A320, belonging to Libyan state-owned airline Afriqiyah Airways, touched down in the Mediterranean island nation at around 11:30 a.m. local time, Malta Today reported.
An Afriqiyah Airways A320 with around 120 people on board has landed in Malta after it was hijacked, the Times of Malta reported today.
Prime Minister Joseph Muscat tweeted he is informed of a potential hijack situation of an internal Libyan flight diverted to Malta. Security and emergency operations were standing by.
According to reports received by Times of Malta, the plane was on an internal flight from Sebha to Tripoli in Libya. A total of 111 passengers and a crew of seven are on board.
The reports indicated that one hijacker is on board. He is claiming to be in possession of a hand grenade.
The hijacker claiming to be pro-Gaddafi, said he was willing to let all passengers go apart from the crew, if his demands were met. It is not known what his demands are at this stage.
Afriqiyah Airways operates from Sebha to Tripoli on Friday, leaving at 10.10am and arriving at 11.20am. It operates another flight on Tuesdays.