---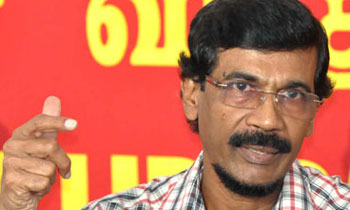 The topic of the new Constitution had been brought up in an attempt to sweep burning issues within the country under the carpet, the Janatha Vimukthi Peramuna (JVP) said today.
Addressing a press briefing, JVP General Secretary Tilvin Silva said the rising dialogue had become beneficial to the government, and it was created by a bankrupt political party who lost power.
Although there was an actual need for a new constitution that could safeguard the people's rights, Mr. Silva said this unwanted dialogue had been created even before any draft on the new constitution had been prepared.
"A debate had been brought up when there was no new Constitution or draft presented to the Parliament. Some groups feared that the country would separate soon because of the new Constitution. We can debate once the draft is prepared, and until then everyone could submit proposals to make a new Constitution," he said.
He also said that everyone has a right to voice their own opinions on the new Constitution. However it should have to be passed through a referendum through which the people can decide the need for such a Constitution.
He said President Maithripala Sirisena has no right to contest for the Presidential election again and if he did so the JVP would defeat him and abolish the Executive Presidency. (Thilanka Kanakarathna)