---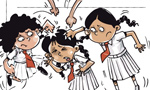 The teacher of Anuladevi Girls' School, Galle who had allegedly told three students of grade four to punish another student, was released on a surety bail of Rs. 100,000 by the Galle Additional Magistrate Kesara Samaradivakara today.
The teacher was arrested by the Galle Harbour Police and produced in Court.
The Magistrate also ordered the National Child Protection Authority officials to meet the parents of the student and figure out if the incident had caused any distress to her.
The incident had taken place in February. (D.G. Sugathapala)