---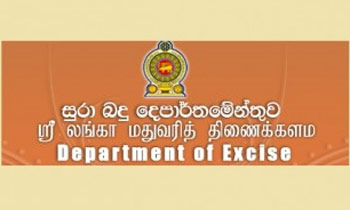 Some 900 uniformed staff members of the Sri Lanka Excise Department are bewildered and agitated over a decision taken by the department's Chief Auditor to collect all raided liquor stocks from countrywide stations and distribute them only among its headquarters clerical staff at a concessionary rate during the upcoming Avurudu season.
The sudden move was described as 'unfair' and 'discouraging' for all uniformed staff members, who are committed to a round the clock service to bust any unlawful sale of government licensed liquor or detect instances of violations of the Excise Ordinance, the sources said.
Excise Department Chief Auditor (Excise Commissioner) S A S Wickramaratne has issued a circular on March 8, 2017 to all 12 Assistant Excise Commissioners based countrywide ordering to collect the stocks of seized liquor products through raids and be sent to the Excise Headquarters before March 27.
It had been mentioned that the move was aimed at distributing the seized liquor products among the clerical staff of its headquarters at a discounted rate.
Excise stations situated countrywide under 12 Excise Assistant Commissioner Divisions conduct routine detections on each and every licensed liquor store, restaurant, bar, supermarket to find whether they violate Excise license conditions in carrying out their sales.
Taking details of violation of Excise license regulations is called a TCR or Technical Crime Report. If one of those premises was ound guilty of violating the license regulations a fine could be imposed in addition to seizing all its unaccounted liquor stocks or bottles.
These seized liquor stocks are then usually sold among the officials who undertook or took part in the detections at a special concessionary rate. This has been a long term practice in the department and was also considered as a gesture to encourage the staffers who were committed to their service.
A senior official who spoke on the condition of anonymity disclosed to the Daily Mirror that this usual practice of the department has been disregarded this year with no ethical reason, with the arbitrary decision of the department's Chief Auditor.
"The uniformed staff shed their sweat and blood out in the field to conduct these detections but they would not get anything as an encouragement, whereas the clerical staff that is stationed at the head office gets all the perks," he claimed.
As a result all stocks of liquor had been sent to the headquarters prior to the mentioned deadline and a number of vehicles had been dispatched from the headquarters merely for this purpose.
The concerned officials questioned how difficult it was to get fuel allowances passed for their station vehicles required for daily duties of raids and detections, whilst the Chief Auditor had allowed vehicles to Jaffna, Badulla, Anuradhapura, Ratnapura, Wennappuwa, Kalutara and Gampaha offices just to collect these stocks.
Scores of Excise uniform staff ranging from Superintendents, Chief Inspectors, Inspectors, Sergeant Majors, Sergeants, Corporals, Guards and Drivers who are utterly unhappy over this unfair decision are thinking of resorting to action of informing the Ministry of Finance and the Excise Commissioner General about this.
When contacted, Excise Commissioner General L K G Gunawardena told the Daily Mirror that this was not a new thing and had been happening for the past decade. He said the purpose of selling sized stocks to its employees at a discounted rate was to generate revenue for the government.
"If there was such an unfair scenario within the department then the aggrieved parties should first complain it to the department heads instead of informing the media," the Commissioner General further said. (Kurulu Koojana Kariyakarawana)