---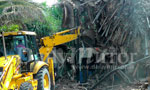 All unauthorised structures along the coastal belt from Dehiwala to Mount Lavinia were demolished today by the Coast Conservation Department (CCD) with the help of the Police and the Army.
A senior official of the CCD said these unauthorized structures were demolished after giving prior notice to those who would be effected by it. He said among the structures that were taken down were restaurants and trade-stalls and that the owners had been advised to remove them before hand. He said the occupants had ignored the order, compelling the department to demolish the structures themselves.
These officials said many of the occupants of these structures had encroached even into the land reserved for the railways.

The officials had demolished the unauthorized structures using back-hoes amidst strong protests by their occupants who said they would be left without a place to conduct business after their stalls were demolished. They requested the authorities to provide them with alternate land to sell their wares, adding that their families would starve to death otherwise. (Indika Manoj Cooray and Kusal Chamath)