---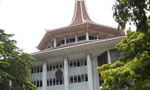 The Supreme Court today directed the Uva Province Director of Agriculture to make necessary measures to pay compensation to the affected farmers for their crop loss as a result of the Uma Oya Project.
The Bench comprising Chief Justice K. Sripavan and Justices Eva Wanasundere and Priyantha Jayawardane made this direction for payment on the application of the affected farmers after assessing their application.
The matter is fixed to be mentioned on October 25.
The Supreme Court on July 4 directed that pipe borne water should be supplied before December 31 to the villagers who are adversely affected by the Uma Oya Project and compensation should be paid to the affected farmers through the Mahaweli Authority.
The Attorney General on February 18, informed the Supreme Court that the State would award compensation to the villagers, who are adversely affected by the Project.
Deputy Solicitor General Parinda Ranasinghe appearing for the Attorney General had also submitted a report and told Court that the compensation would be awarded to villagers of the Badulla District, who are affected by the construction of Uma Oya Multi-purpose Project, which diverts the water to the Moneragala and Hambantota Districts. (S.S. Selvanayagam)