---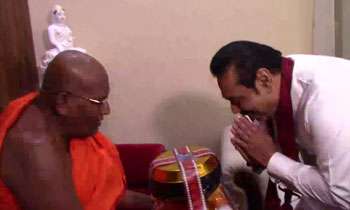 Ven. Ittepane Dhammalankara Thera, the Mahanayake of the Kotte Parshwaya of the Kalyani Dharma Gree Maha Sanga Sabha told Sri Lanka Podujana Peramuna leader Mahinda Rajapaksa that Sri Lankans who are a part of a great history cannot accept the ugly incidents that took place recently within the chamber of the Parliament.
He reminded the former President who visited the Thera at his Temple, Sri Dharmavijayaloka Viharaya at Pannipitiya that King Dutugemunu had stated that King Elara should not be harmed by any other but himself as the latter was a king and he had built a monument in Elara's name to pay homage to him.
We are a people who have such a great history, as such we cannot condone what happened in Parliament recently, he said and added that the incident created a situation where we cannot go to another country and identify ourselves as Sri Lankans.
He regretted over the division among the Bhikkus who are accusing each other on various platforms. "We won't be able to train the young monks as Bhikkus at this rate" the Mahanayake Thera lamented.
He told Mr. Rajapaksa that the latter's party or any other party would not be benefited by the Bhikkus getting on to the platforms of those parties as the people have started to view those Bhikkus in an unwelcome manner. "The respect that had been earned by the Bhikkus in the past has been diminished and it is not felt by them".
Responding to the Thera Mr. Rajapaksa said that what happened in the Parliament was the result of Speaker's actions and alleged that the no-confidence motion that was brought against him was not communicated even to him beforehand.(Buddhika Kumarasiri)