---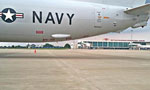 A delegation of defence experts left Sri Lanka following a week long discussion from the Mattala Rajapaksa International Airport in Hambantota on Sunday, the US Embassy announced today in a statement.
They were flown out on a US Navy P8A Poseidon aircraft.
The statement said:
"The Poseidon arrived in Colombo on December 4, where its crew met with Sri Lanka military personnel to demonstrate the capabilities of the P-8A and exchanged expert advice.
"This bilateral partnership with Sri Lanka security forces reinforces the global maritime rules that produces greater prosperity for all of us," said US Embassy Chargé d'Affaires Robert Hilton.
"The Red Lancers are stationed in Jacksonville, Fla and currently on a routine deployment to the Indo-Asia-Pacific to ensure safety and security of vital sea lanes and trade routes, including integrating air and sea patrol operations. The P-8A is a multi-mission aircraft that provides long-range maritime patrol capabilities, making it the most advanced ocean surveillance aircraft in the world.
"We are pleased about the opportunity to partner with our friends in the Sri Lankan government and armed forces," Lt. Anthony Beres, the Detachment Officer in Charge said
"The P-8A Poseidon brings advanced capabilities to maritime safety patrols, search and rescue, counter-narcotics, and humanitarian and disaster relief efforts, and we appreciated engaging with the Sri Lankan Navy during this visit," he added.