---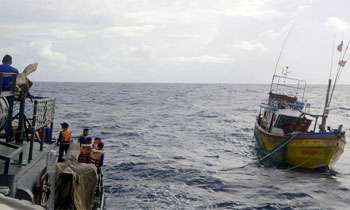 The Sri Lanka Navy with the assistance of the US Navy rescued seven fishermen in distress in the seas off the Galle harbour yesterday.
The Navy said the fishermen aboard the vessel 'Suma Baba-03' had left the Galle harbour on October 3 for fishing and were stranded when the vessel engine failed.
The USS "Decatur", an American warship which was sailing on a close passage had observed the distressed trawler and rescued its crew.
Thereafter, the US ship had reported the incident to the Maritime Rescue Coordinating Centre (MRCC) in Colombo.
The Sri Lanka Navy then deployed SLNS Jayasagara from the Southern Naval Command to bring the fishermen and trawler ashore.
The fishermen boarded SLNS Jayasagara about 130 nautical miles south of the Galle Harbour and the trawler was safely towed back, the Navy said.