---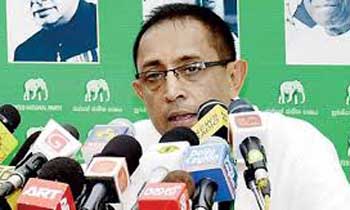 Public Enterprises Development Minister Kabir Hashim said today the United National Party (UNP) had no issues in securing parliamentary majority but their aim was to continue to function as a Unity Government to find solutions to national issues faced by Sri Lanka.
"The UNP would have had an advantage if it formed a UNP government. But we believed that the best way to resolve national issues was through a unity government concept," he said.
When asked by journalists whether the UNP hoped to join the TNA to form a government if some SLFP members quit the government as claimed, the minister said there was no reason to do so because UNP had no issues with regard to securing a parliamentary majority.
"What is important is to protect the national government concept. We can engage in party politics after 2020. We promised to resolve issues faced by this country. We must do that first," he said. (Ajith Siriwardana)
Video by Sanjeewa