---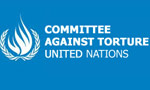 In response to the UN Committee Against Torture's (CAT) findings that torture is a common tactic adopted by the police in Sri Lanka, the government yesterday said it would take due note of the UN panel's recommendations in working to improve accountability, prevent torture, to take legal action against those who commit torture and in carrying out the necessary institutional reforms.
The UN Committee, on Wednesday, opined that torture was routinely used by Sri Lankan law enforcement authorities regardless of the suspected offence and it called for a probe into the allegations of torture of detainees.
An expert, who was part of the committee, Felice D. Gaer has said that the Sri Lankan government has not embarked on institutional reform of the security sector.
Issuing a statement yesterday, the Foreign Affairs Ministry said Sri Lanka is engaged with the Committee Against Torture in keeping with its Treaty obligations, and commitment, under the leadership of President Maithripala Sirisena and Prime Minister Ranil Wickremesinghe to ensure that the human rights of all citizens in the country, rule of law, and good governance are assured.
It further said Sri Lanka appreciated the Committee's recognition of the positive steps taken by the Government since January 2015 to end torture. "Among several measures which have been initiated by the government to address allegations of torture, is an indicator-based Human Rights Plan for the next five years which is being developed through an inclusive stakeholder process," it said. (Lahiru Pothmulla)