---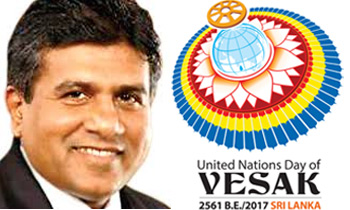 For the first time in Sri Lanka, the United Nation Vesak Day celebration will be held in Colombo and Kandy from May 12 to 14 with the participation of large number of local and foreign delegations, Justice and Buddhasasana Minister Wijeyadasa Rajapakshe said today
He said the UN Vesak Day celebration will be held for the 14th time this year and this is the first time Sri Lanka has been given the opportunity to host this festival.
Indian Prime Minister Narendra Modi will be the chief guest of the opening ceremony which will be held at BMICH in Colombo while Nepali President Bidhya Devi Bhandari will attend for the closing ceremony which is scheduled to be held at the Sri Dalada Maligawa premises in Kandy.
The UN Vesak Day celebration was held in Thailand for the eleventh time and Vietnam held it twice.
"We have invited delegations from more than 85 countries and 72 countries had already confirmed their participation.
A special Vesak zone will be held at Diyawanna on May 12 while the academic conference is scheduled to be held on May 13 at the BMICH. A cultural show will be held at Nelum Pokuna.
Minister Rajapakshe said the delegation will leave for Kandy on May 14 by trains for the closing ceremony . "Special expositions of the Sacred Tooth Relic for the delegates will be held at the Dalada Maligawa and a special Dalada Perahera will also be held on May 14," he said.
The UN General Assembly in 1999 declared an "International Day of Observance for Vesak" — on the initiative of the then Foreign Minister Lakshman Kadirgama.
In 2000, for first time the UN Day of Vesak Celebration was solemnly held at the United Nations Headquarters, New York, with representatives of Buddhist traditions from 34 countries.
Meanwhile, Minister Rajapakshe said that addition to the UN Vesak celebration, a State Vesak festival is also to be held at the Wattarama Rajamaha Viharaya in Kegalle on May 9 with the participation on President Maithripala Sirisena and the Prime Minister Ranil Wickremesinghe.
The Minister said a replica of the Shakya Kingdom is being constructed at Kahapola in Piliyandala. He said construction of some of the segments had been completed. Accordingly, the Suddhodana and Lumbini area will be declared open on May 11. (Darshana Sanjeewa)