---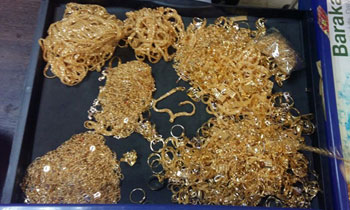 Customs officers today arrested a cabin crew service supervisor attached to SriLankan Airlines carrying more than five kilogrammes of gold jewellery at the Bandaranaike International Airport (BIA) in his person, Customs Spokesman Deputy Director Sunil Jayaratne said.
The 50-year-old suspect was arrested with five packets of gold jewellery wrapped around his waist and legs, he said.
"The jewellery was hidden inside two specially made girdles and a belt worn around his leg," he said.
BIA Customs Director Parakrama Basnayake told the Daily Mirror that the suspect had served as a Cabin Crew Service Supervisor for about 29 years and a resident of Colombo.
He was arrested at the arrival terminal after a flight from Jeddah at 4.15 a.m.
"At the time of arrest three packets of gold jewellery were found packed around his waist wrapped with cellophane tapes and inside girdles especially made for the jewellery. The other two jewellery packets were found hidden in the knee guards," Basnayaka said.
The suspect is a senior staffer and a frequent flyer. After the detection the officers had searched the other crew members as well.
He said initial investigations had revealed that the suspect had been in the practice of smuggling jewellery for a long time.
He said the Customs had received information regarding the racket and was on the lookout for him for a long time.
"The gold jewellery weighed 5.21 kilogrammes worth more than Rs. 27.32 million," he said.
The detection was made by Assistant Customs Superintendents Nuwan Abeynayake, Rasika Samanjith, Srilal Wijewardena. Nishantha Jayasinghe, Hasantha Guruge, M.K.U Gamini,
Investigations were conducted under direction of Customs Directors Ruwan Sathkumara, and Parakrama Basnayake. (Chaturanga Pradeep and T.K.G Kapila)