---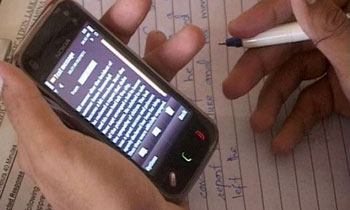 Two separate investigations have been launched following the incidents reported regarding O/L examination frauds from Anuradhapura and Colombo schools, the Examinations Department said.
Speaking to the Daily Mirror acting Examinations Commissioner Sanath Pujitha said the student in the Anuradhapura school who was found with the mobile phone using Viber app to answer Monday's mathematics paper 1, had been suspended for sitting the examination from today.
"The suspect student along with the mobile phone and the answer sheet was handed over to the Anuradhapura HQI office for further investigations," Mr. Pujitha said.
Meanwhile, the suspect who had faced the mathematics paper 1 at the Isipathana College examination centre was handed over to the Narahenpita Crime Investigation Division (CID).
The candidate who was facing the mathematics paper for the third time as an external applicant and not a school applicant. (Chaturanga Pradeep)