---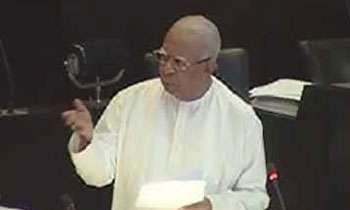 TNA Leader MP R. Sampanthan said there were two opposition leaders in parliament today as Speaker Karu Jayasuriya had appointed former president Mahinda Rajapaksa as the opposition leader without removing him (Mr. Sampanthan) from the post.
Making a statement in parliament, Sampanthan said the actions of the speaker could be understood to have lacked the conviction to remove him from the post of Opposition Leader.
He also said Rajapaksa who was appointed to the position was not even an MP at the date of such recognition, as he had left the SLFP to join the SLPP.
"This would again suggest that your decision has been taken in haste and that your decision is in violation of our constitution," Sampanthan said.