---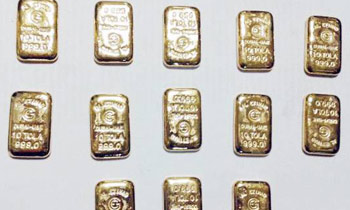 The Air Intelligence Unit (AIU) of Mumbai Customs arrested two Sri Lankans for smuggling in gold bars concealed in their rectum on Saturday, India Today reported.
One of the accused identified as Jameer Abdul Wahid (42) has arrived from Dubai by the Emirates Airlines flight at Mumbai airport.
Indian Police said that upon searching him, they recovered 13 gold bars weighing about 1,516 grams worth Rs 45.48 lakh. The said gold bars were hidden in his rectum.
Another accused have been identified as Althaf Sahul Hameed (48), he too held a Sri Lankan passport and arrived from Dubai by the Emirates Airlines flight.
The police recovered 12 gold bars weighing around 1,399 grams and worth Rs 41.97 lakh.
"Both passengers are from Puttalam, Sri Lanka. They were frequent fliers to India and are in trading activities in textile material, readymade garments and cosmetics," said an official.