---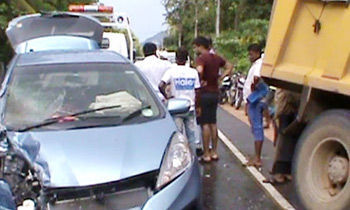 At least twelve persons, including two pedestrians, were killed and another seven were injured in road accidents across the country as of last night following the week-long festival holidays, the Police said today.
They said two fatal road accidents had been reported last night.
A 34-year-old pedestrian died when a cab crashed on him at the Singhapura Junction in Kuliyapitiya last night, while a 34-year-old motorcyclist was killed when he lost control and crashed onto a tree at Galenbindunuwewa last night, the Police said.
Meanwhile a 57-year-old female pedestrian was killed when a motorcycle crashed on her at Delgodawatte in Mawanella yesterday, while a 54-year-old resident of Vinayagapuram and a 57-year-old resident of Handapangoda were killed in road accidents in Thirukkovil and Padukka yesterday,
The Police said two persons aged 30 and 34 were killed when the motorcycle skidded off the road and crashed onto a concrete post at Bulugahamulla, Minuwangoda on Friday evening.
Another 63-year-old resident of Moradeniya, was killed and another was injured in a head on collision in Padiyathalawa, while a 23-year-old motorcyclist was killed in an accident in Kinniya, on Friday.
In addition the Police said a 45-year-old man had been killed and another three including a child were injured in a head-on collision between two motorcycles at Malgalle in Thawalama.
The injured were admitted to the Karapitiya hospital.
Meanwhile, another two persons aged 25 and 36 were killed in two separate accidents in Rideemaliyadde and Avissawella on Friday.(DS)