---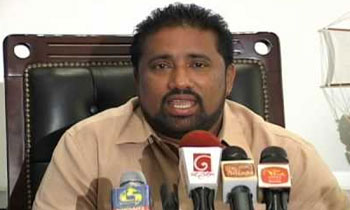 The government is keen on making amendments to the Constitution despite many other burning issues in the country including the dengue epidemic, garbage issues and the economic crisis, the joint opposition alleged today.
Joint opposition member Rohitha Abeygunawardana told a news conference that the government attempting to fulfil promises made during the pre-election period to several parties by making amendments to the Constitution.
"These amendments will lead the state to federalism. Even the Mahanayaka Theras of the three Nikayas and other Sangha Sabhas have unanimously decided there was no need to bring in a new Constitution or an Amendment to the Constitution," the MP added.
He said the government was continuing a silence policy with regard to the burning issues of the country. He also said this government would not be able to persist in such a manner for a longtime.
Meanwhile, MP Abeygunawardana said the government was trying to suppress the media and journalists by introducing new Acts to prevent them from exposing the truth.
He said a group of non-governmental organizations (NGO) were in process of making rules and regulations to establish an Act on media institutes and journalists and alleged that it would result in imprisonment of journalists; "The government is attempting to continue its procedure in a deceitful manner," he added. (Kalathma Jayawardhane)