---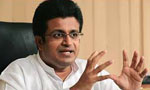 The Parliament vote on the VAT Bill would act as an Ordeal (Agni Pareeksha) to decide whether the true leader of the Sri Lanka Freedom Party (SLFP) is President Maithripala Sirisena or Prime Minister Ranil Wickremesinghe, the Pivithuru Hela Urumaya (PHU) said today.
PHU General Secretary MP Udaya Gammanpila said the President, in Polonnaruwa, had expressed his views against any tax increment which would be a heavy burden on the citizens.
On the other hand, he said the Premier had said the tax increments were needed to fulfil conditions of the International Monetary Fund (IMF).
"Therefore, the SLFP faction in the government which follows the President's orders should vote against the Bill. But, if SLFP MPs accept the leadership of Prime Minister instead, they could vote for the Bill. This voting would decide who the real leader of the SLFP ministers is," he told a news conference.
The MP said the Minister had no knowledge about the plight of the VAT revision and charged the inclusion of the private medical services in the VAT spectrum was a blow to the citizens, specially the senior citizens, who need health care constantly.
"Most of the senior citizens rely on their children as they don't have a proper income. Blood tests, urine tests and other tests are not strange to them. They are the ones who undergo surgeries mostly. Today, senior citizens are in distress because their monthly expenditure for healthcare had been increased by 15 per cent," he said.
He recalled that the Supreme Court order suspended the VAT increment and said therefore, the people heaved a sigh of relief even it was temporarily. "Now we can see who really takes care of the people," he said.
He said the opinion of the Supreme Court would be presented in Parliament today (9) and presumably, the Court would order to obtain the Cabinet consent for the VAT amendment Bill before presenting in Parliament. (Lahiru Pothmulla)