---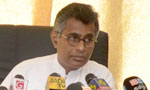 The protest by the residents in Thotalanga, was completely unnecessary because they had already been given proper housing units at three housing projects completed in the close proximity, Megapolis and Western Development Minister Champika Ranawaka said today.
Accordingly, 29 families from the area had been given housing units at the Randiya Uyana housing complex, 159 housing units at Modara Uyana housing complex and 74 housing units at Sirisara Uyana housing complex.
"The keys were given to the residents in January 12 in the presence of Finance Minister Ravi Karunanayake. They were then noticed to vacate their old dwellings by end January. We can't compare this incident to what happened in the past, because the demolition of the establishments was not arbitrary," Minister Ranawaka told a news conference held at the Ministry.
He said only 35 families, who had been living on rent, were still occupying the Ferguson Transitional Land and they too have been informed in early December to find alternative places.

The Minister went on to state that some residents, who had been given housing units, had rented out them and had come back to the unauthorised dwellings.

"The residents keep returning with friends and families to these houses, especially during the weekends. New comers too had come to the area and they keep acquiring a large amount of marsh lands. This is why we had to demolish the unauthorised structures," he said.

He said the residents, who had houses of more than 700 square feet, had been given two housing units of 550 square feet at the new housing complexes.

"Most of the residents, who spoke to media, in an emotional manner had been given two housing units," Minister Ranawaka said showing their photographs.

Meanwhile, he warned people not to rent out housing units given to the residents from the housing complexes and said the government would seize them if they were rented out. (Lahiru Pothmulla)