---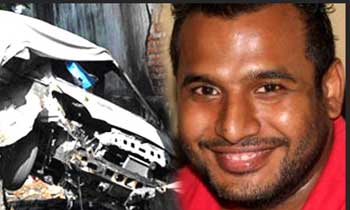 The Criminal Investigation Department (CID) yesterday informed the Colombo Chief Magistrate's Court that it was in the process of identifying the individual in the vehicle which had followed Wasim Thajudeen's vehicle at the time of the incident.
When Additional Magistrate Jeyaram Trotsky enquired into the progress of the investigation, Deputy Solicitor General (DSG) Dilan Ratnayake informed court that CID is in the process of tracking the phone calls made by the victim before his death.
Meanwhile, the Sri Lanka Medical Council (SLMC) also informed court that they had concluded the investigation on former Chief Judicial Medical Officer (JMO) Prof. Ananda Samarasekara and that the report had been submitted to court last month. The SLMC stated that it had found the former Chief JMO guilty of three of the five charges filed against him.
The SLMC further said that it had concluded investigations on two other JMOs, Shiyantha Amararatne and C. K. Rajaguru on two charges related to the missing body parts of the slain former Havelocks ruggerite and found both were not guilty.
Meanwhile, the DSG said the SLMC and the CID were collaborating on investigations related to the former Chief JMO and would report to the court if there were grounds to arrest Prof. Samarasekara.
On September 21, 2016, the CID informed court that several body parts of Wasim Thajudeen were missing and were allegedly removed from the mortuary coolers at the Colombo JMO office to 'SAITM' in Malabe.
The CID also sought to extend the period allowed to continue investigations. The Additional Magistrate fixed the case for August 24 for the next hearing. (Yoshitha Perera)
Video by Courts Prasanna