---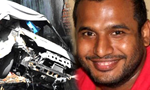 Inspector of Police, Homicide Division of CID, Ravindra Wimalasiri today told Court, according to statements recorded from a few witnesses, the former chief JMO Ananda Samarasekara had dispatched some body parts of Wasim Thajudeen from a vehicle to the Saitm Private Campus in Malabe after the first autopsy.
The CID filing a further report informed Court that according to the statements recorded from two officers at the JMO's office; it was revealed that following the conclusion of the autopsy, the former Chief JMO had returned to the office and cut some parts of the victim's body. Later, he had placed them in the refrigerator, the CID said.
The prosecution said after releasing the body to the relatives that the former JMO had taken away the body parts from the refrigerator a few days prior to his retirement.
The CID had also informed court that it had begun an investigation concerning the missing body parts under the Public Property Act, because the body parts had earlier been taken to the former JMO's custody as case productions and, therefore, they belonged to the state. (Shehan Chamika Silva)