---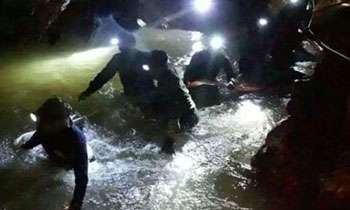 Rescuers searching for 12 missing boys and their football coach say they have all been found alive, officials in Thailand have said.
The boys, aged between 11 and 16, and their 25-year-old coach have been trapped in the Tham Luang Nang Non cave complex in Chiang Rai province for 10 days.
Monsoon rains had poured into the jungle in the north of the country on Monday as rescuers desperately tried to save the boys.
Experts divers said they had made progress after reaching a bend where a half-mile passageway split into two directions.
Divers and rescue workers entered the passageearly on Monday after passing through a key chamber on Sunday whose high, murky waters had previously blocked their progress.
Chiang Rai governor Narongsak Osottanakorn said after the boys were found: "We found all 13 safe, we will take care of them until they can move."
The boys have been rescued after search efforts were hampered by rising water that flooded some areas of the cave complex.
Sky's Lisa Holland, who is at the cave entrance, said: "Rain is absolutely the last thing that the rescue workers need.
"Remember, those 12 missing schoolboys and their coach are believed to be trapped underground in flooded caves, so they want the water levels to go down.
"They are frantically trying to pump water out of the caves but at the same time fighting the elements - massive downpours of rain." (news.sky.com)