---
Most members of the Thai youth football team rescued from the flooded cave have been ordained as Buddhist novices, the BBC reported today.
The group will spend nine days living in a monastery, a tradition for males in Thailand who experience adversity.
They were trapped for more than two weeks before the dramatic rescue.
The boys were all released from hospital last week and are said to be in good health after their ordeal in the snaking caverns of the Tham Luang caves of northern Thailand.
This step is intended to be a "spiritual cleansing" for the group, and to fulfil a promise by the families to remember the diver Petty Officer Saman Gunan who died in the rescue operation.
"They should spend time in a monastery. It's for their protection. It's like they died but now have been reborn," Seewad Sompiangjai, grandfather of Night, one of the rescued boys has told the BBC earlier.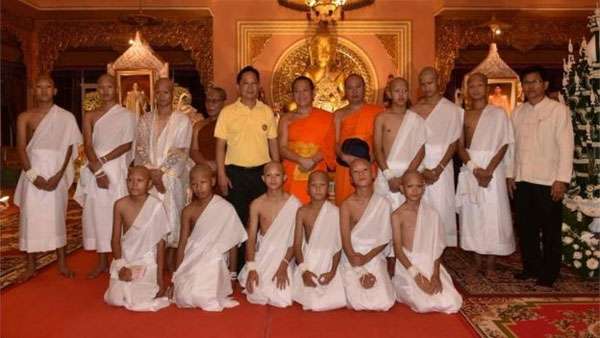 They will stay in different monasteries until 4 August meditating, praying and cleaning their temple. The length of time they will spend doing this - nine days - is a nod to a Thai lucky number.
Correspondents say it's seen as normal by Thais for boys and men to spend time as monks as a rite of passage.
One of the boys, Adul Sam-on, will not be joining the rest of the "Wild Boars" football team as he is a Christian. Their coach Ekkapol "Ake" Chantawong, 25, will join them for the same period of time but as a fully fledged monk rather than a novice.
The coach had spent time in a monastery as a novice before this. Although he has attracted some criticism for taking the boys into the cave, he is also credited with helping them through the ordeal by reportedly teaching them meditation techniques to help them stay calm and use as little air as possible.
The extraordinary story of the group's rescue has been followed by millions worldwide since 23 June, when they walked into the Tham Luang cave after football practice - only to be trapped by sudden monsoon floods.