---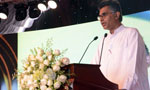 Innovative technology was the only way to increase GDP, and the Techno City, which was to be built soon at a cost of nearly Rs. 20 billion, would play a major role in achieving this goal, Minister Patali Champika Ranawaka emphasized.
"Usually, we need to invest 4.5 per cent of GDP to achieve a one per cent increase in GDP. But if we invest that amount in innovations, we can increase the GDP in a much more effective manner. We can expect an increase of upto 8 - 9 per cent," he said.
Commenting on the Techno City that was to come up soon, the minister said a Mega Urban Zone would be developed starting from the Kahathuduwa entrance and expanding upto the Kaduwela entrance of the Southern Expressway. "The new zone would provide employment opportunities in the fields of nano, gene, bio, atomic and space technology as well as the widely popular information technology (IT). All universities and technical colleges will be brought here and we will develop the city with all facilities for professionals to engage in these fields, including housing facilities," he said.
He assured that the project would have no vested interests. "This innovative city is not a 'Maithri City' or a 'Wickremesinghe City'. This is a project based on the policies of the government and not based on the whims of certain individuals," he said.
Minister Ranawaka said the University of Moratuwa, Science, Technology and Research Ministry and Arthur C Clark Institution for Modern Technologies would invest a total of Rs. 19,796 million (nearly Rs. 20 B) in the projects associated with the Techno City in its first phase.(Lahiru Pothmulla)