---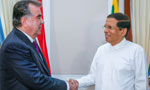 Tajikistan President Emomali Rahmon, who was on a state visit to Sri Lanka, said today Tajikistan was keen to learn from Sri Lanka in areas of youth development, tourism, gem industry, and apparel industry.
He highlighted the need to explore more possibilities in those areas during the bilateral talks he had with President Maithripala Sirisena at the Presidential Secretariat.
President Rahmon invited President Sirisena for a state visit of Tajikistan.
President Maitripala Sirisena said Sri Lanka has increased potential to trade with the world and work for economic development.
President Sirisena welcomed Rahmon and the official delegation and emphasized the need to increase cooperation in trade, regional security and drug trafficking between the two countries.
He pointed out that although both Sri Lanka and' Tajikistan had shared interests and many commonalities, trade between the two countries had not grown satisfactorily. As such, he invited Tajikistani entrepreneurs and public sector to explore the potential to investment in Sri Lanka.
President Sirisena welcomed the signing of four bilateral agreements and said he looks forward to more corporation between the two countries, specially in national security, drugs control, tourism, hydro power and trade.
Prime Minister Ranil Wicremesinghe elaborated that cultural and youth exchange programmes can be arranged, while exchange of technology and know-how in many areas are possible, as Sri Lanka works towards becoming an economic hub in the Indian Ocean.
After the bilateral talks, four bilateral agreements were entered into in the presence of the two Presidents.