---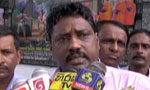 The Joint Postal Trade Union (JPTU) Convener Chinthaka Bandara said today their token strike was a success.
Post Master General Rohana Abayaratne said if the strike had continued till tomorrow midnight as earlier planned, there would have been a large backlog of mails which would have taken more than four days to distribute.
Mr. Bandara said 649 post offices and 3,410 sub-post offices had remained closed, while 95 per cent of 21,000 postal employees had participated in the trade union action.
"We have organized a protest march tomorrow from the Colombo Postal Headquarters to President's Secretariat to hand over a letter to the President," he said.
"The main objective of the two-day strike is to regularise recruitment and promotions and mete out justice to the 21,000 postal service employees belonging to the various grades," he said.
Meanwhile, Mr. Abayaratne said the token strike had brought the operation side of the postal servics to a standstill.
"Twenty five trade unions had taken part in the strike. Several post offices had reported that a few employees had reported to work. The Department directed the the Deputy Post Master Generals and Provincial Postal Superintendents to provide all the necessary facilities to those reporting to work," the PMG said.
The Colombo Postal Headquarters is functioning today but the Central Mail Exchange and the post offices were closed. (Chaturanga Pradeep)