---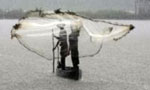 The fishermen from Pamban, Tamil Nadu have announced indefinite strike from today urging the immediate release of fellow fishermen lodged in Sri Lankan jail.
The Sri Lankan Navy had apprehended 29 fishermen from Ramanathapuram and Thoothukudi districts yesterday.
The local fishermen are demanding immediate release of the fellow fishermen arrested by Lankan Navy.
Tamil Nadu Chief Minister O Paneerselvam has written a letter to Prime Minister Narendra Modi to ensure the release of 51 fishermen from Tamil Nadu languishing in Lankan jail and 114 fishing boats detained by Sri Lanka.
The Tamil fishermen are released as goodwill gesture but fishing boats are detained as deterrent measure by Sri Lanka.
The Tamil Nadu fishermen hope that lasting solution to the problem will be found in the ministerial level talks to be held on January 2 in Colombo. (ANI)