---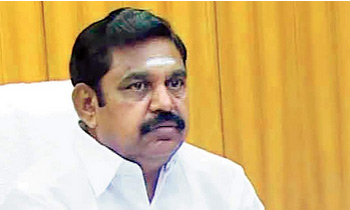 Expressing Shock at the Sri Lankan Parliament passing a new Bill to prevent Tamil Nadu fishermen from fishing in their traditional waters in Palk Bay, the chief minister Edappadi K Palaniswami said the new legislation was a severe setback to the diplomatic efforts being taken to resolve the issue amicably.
He urged the prime minister Narendra Modi to direct the External Affairs Ministry and the Indian Mission in Sri Lanka to lodge India's strong protest against the move.
Under the provisions of the Fisheries and Aquatic Resources (Amendment) Bill of Sri Lanka, the fishing trawlers, as well as fishing gear used in the Lankan territorial waters, would be confiscated, fishermen imprisoned for two years and huge fines up to 50,000 Lankan Rupees will be imposed.
The chief minister urged the prime minister to direct the authorities concerned to immediately, appropriately and effectively respond to this latest move by Lanka which would permanently hit the livelihood of our fishermen in the Palk Bay, both by registering our strong protest against the move and ensuring that necessary provisions were made in the new legislation to exempt the traditional waters of Palk Bay from its purview.
Stating that the new legislation of Lanka would deny the fundamental rights of Tamil Nadu fishermen under the Constitution of India, he said moving such a Bill at this crucial juncture of transition towards a permanent solution it was nothing but a harsh step to undermine the diplomatic efforts of the Centre to sort out the sensitive issue.
Palaniswami further said a livelihood issue of this nature should be better resolved through promotional and development measures to introduce alternative modes and technologies, and not through such abrupt bans and punitive measures.
He also said that Palk Bay was the historic and traditional fishing area of Indian fishermen from Tamil Nadu and the historical rights of the Indian fishermen were simply signed away as part of the ill-advised Indo-Lankan agreements of 1974 and 1976 which also unilaterally ceded Katchatheevu to Lanka without having any foresight or concern on the plight of our innocent fishermen.
It may be recalled that already 50 fishermen from TN and 143 fishing boats had been under Lankan custody and the state government had, during the joint working group meetings and the ministerial level meeting in Colombo on February 2, raised the issue of release of fishing boats.(Indian Express)