---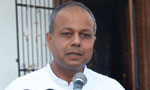 With regard to the death of a man while in the custody of the Pussellewa Police, Law and Order Minister Sagala Ratnayake told Parliament yesterday that there had been a lapse on the part of the police when it came to the checking of inmates at regular intervals.
He said that though those held in police cells should be checked every half-an-hour, it had not happened.
In his response to the question asked by opposition MP Dinesh Gunawardena, the minister said the police had inspected the cell at 18.45 hours and then at 19.40 hours.
"It has to be done every 30 minutes but in this instance it had not happened for an hour," he said.
The minister said the man had been arrested on charges of being in possession of 750 litres of toddy without a licence.
The suspect (30), was arrested at the Pussellawa town on September 17 and locked up at 17.15 hours. The police had found him hanging from the roof of the cell when the police had gone to his cell. The suspect was rushed to the hospital but he had died on admission.
The minister said a postmortem examination was carried out and the body parts would be sent to the Government Analyst while a magisterial inquiry would be held on September 23.
"We do not condone people dying while under police custody. The police are bound by law to protect all citizens," he said. (Kelum Bandara and Yohan Perera)