---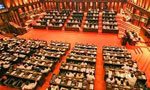 The total number of MPs' votes, for and against the supplementary estimate of Rs. 55 million, were found to be equal, after a perusal of the video footage, disputing the passage of it in the House.
Initially it was put to a vote in the House after JVP leader Anura Kumara Dissanayake called for a division. While the vote was being taken, MPs entered the Chamber and participated in the voting. This led to confusion.
Afterwards, Government MP Lucky Jayawardane, who was presiding at the time, announced that there were 33 votes for and 31 against, and therefore the estimate had been approved.
However, some opposition members, particularly those of the JVP, protested and challenged the results. This led to a recount of the vote after viewing the video footage. Then it was found that there were 31 votes for and 31 against.
The government members asserted that a final vote cannot be reviewed outside the Chamber in this manner without the Speaker's permission.
Yet the opposition insisted that the initial false announcement should be annulled.
Chaos began when the opposition MPs trooped into the well of the House after MP Jayawardene announced that the supplementary head has been passed.
The vote was taken when Chief Opposition Whip Anura Dissanayake called for a division. While the counting was taking place members continued coming into the chamber. The vote of one member from the government was initially allowed. More members came in, including opposition MPs who requested that their votes should also be counted. However Mr. Jayawardane said the voting time was over. Members from both sides raised their voices and began arguing when the result was announced. Some were shouting at the chair and the Secretary General.
Opposition members, including Dinesh Gunawardena, Wimal Weerawansa, Rohitha Abeygunawardene, Pavithra Wanniarachchi and many others trooped into the well when the chair adjourned the sessions. Meanwhile the mace was taken away by the Serjeant and Arms signifying the ending of sessions.
The supplementary estimate was to seek the approval of the House to spend a total Rs 50 million for various purposes -- including some relief for the people and to purchase some security vehicles.
The UNP-led minority government was defeated when the approval of Parliament was sought for a regulation imposed under a financial Bill in April 2015. (Yohan Perera and Kelum Bandara)