---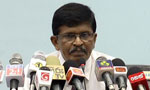 The deep depression in the Bay of Bengal which has intensified in to Cyclonic storm 'ROANU' is now located about 600 km north of Kankesanthurai and it is further moving away from the island, the Met department said in its 4 pm bulletin today.
Issuing a weather forecast for the next 24 hours today, the department "Strong windy conditions over the country and in the sea areas around the island will continue during next few days due to the meeting of wind feeding to the system. There is a high possibility to sudden increase of rain in the South-western part of the country. If so, fairly heavy to very heavy rainfall (100mm-150mm) could also be expected at some places."
Showers or thunder showers will occur at times in the Western, North-Western, Central and Sabaragamuwa provinces and in the Galle, Matara and Mannar districts.
Showers or thunder showers will occur at several places in the Anuradhapura and Hambantota districts.
There may be temporary localized strong winds during thundershowers. General public is kindly requested to take adequate precautions to minimize damages caused by lightning activity.
Meanwhile, Director of Department of Meteorology S. Premalal said today there would be an increment in the rainfall from May 23 despite a considerable decrements in May 21 and 22,
Premalal said moderate thunder showers would occur in North-Eastern and North-Western areas of the country in coming days while the Northeast monsoon would experience after May 25.
"The will be a slight delay in experiencing the Northeast monsoon with the prevailing adverse weather conditions," he added.The flood warnings for several areas including Kalutara, Monaragala, Matale, Badulla, Kandy and Ratnapura had been renewed, National Building Research Organization (NBRO) said today.
NBRO Landslide Research and Risk Management Division's Head of R.M.S. Bandara said the Western slope of the country was also affected by the flood threats and he requested the residents of Kegalle and Ratnapura areas at least to temporarily leave from their houses.Meanwhile, all the expected mothers in internally displaced person's (IDPs) camps had been advised for immediate admitting to the hospitals in order to refrain from the danger occurred with the adverse weather condition, Director General of Health Services Dr. Palitha Mahipala said today.
Dr. Mahipala said the people could contact the mobile emergency health service which was now activated for 24 hours through 0112694860 and 0113071037.
"We have been established a disaster management unit for health services from May 17. We have also established a new circular for all the hospitals for the emergency treatments and services," he added.
He said it had been reported nearly 240 IDPs camps established all over the country due to the adverse weather conditions. "We have appointed a health officer for each and every IDPs camp," he added. (Kalathma Jayawardhane)
Video by Chamilka