---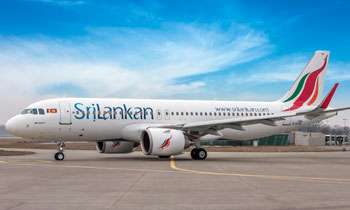 SriLankan Airlines management had assigned former Chief Financial Officer (CFO) S. A. Chandrasekara to formulate two business plans in 2008 and 2010 but none of the recommendations made through the business plans had been implemented, former CFO S. A. Chandrasekara informed the Presidential Commission of Inquiry (PCoI) into irregularities at SriLankan Airlines, SriLankan Catering and Mihin Lanka yesterday.
S. A. Chandrasekara was appointed by one of the former SriLankan Chairmen, Nishantha Wickramasinghe, to formulate a strategic business plan for SriLankan within three months for four financial years in April 2010.
The witness informed the Commission that he had prepared a four year (2010/11-2014/15) business plan for USD 300 million. During his testimony, he informed that both business plans had focused on selling shares of SriLankan to earn profits and to avoid obtaining loans or sovereign guarantees from the General Treasury.
In the business plan, he also created separate subsidiaries with ground handling, catering and engineering so that these entities could enter into agreements with other institutions, enabling them to sell shares.
"Ground handling, catering and engineering are profitable processes. For example, ground handling operations alone are worth at least USD 400 million and if we had issued shares for half its worth, USD 200 million, we could have paid off a lot of debt. Moreover, the fact that ground handling, catering and engineering is with SriLankan allows the covering up of losses incurred by the flight operation. I wanted to continue this operation without being a burden to the Treasury," Chandrasekara said.
Meanwhile, Yasantha Dissanayake, Head of Financial Management at SriLankan, told the PCoI that former CEO Manoj Gunawardena had informed him that the Chairman and the Treasury wanted Chandrasekera's plan to be reviewed by an international company.
SriLankan Airlines Management paid Rs.50.7 million to Via Capital Company in 2010 to evaluate the business plan formulated by Chandrasekera for Rs.750,000. The selected international company, Via Capital, then went through the business proposal formulated by Chandrasekara and came up with a new proposal, for five years, by May 2011.
They suggested a number of proposals including expanding the fleet to 23 aircraft - 9 narrow body and 14 wide-body. The total cost for this proposal was USD 510 million compared to USD 300 million in the plans created by Chandrasekara. (Yoshitha Perera)