---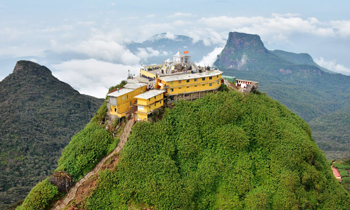 The Sripada season began on Unduvap Poya Day today with a religious ceremony held at the summit under the auspices of the Pelmadulla Rajamaha Vihara and Sri Pada Chief Incumbent the Ven. Bengamuwe Dammadinna Thera, who is also the Chancellor of Uva Wellassa University.
The ceremonies began at the auspicious time of 5.40 a.m. after enshrining the relics casket with on the summit.
The relics casket and the statue of God Saman and the regalia were brought in a procession to Sri Pada summit on Saturday.
Three separate processions wended their way to the Sri Pada summit from the Pelmudulla Temple along the Ratnapura-Palabaddala Road, the Balangoda-Bogawanthalawa Road and the Ratnapura- Avissawella Road.
A large number of devotees visited the Sri Pada summit despite the adverse weather conditions while a several more devotees were seen alongside the approach roads awaiting the opportunity to pay homage to the sacred relics and god Saman's statue.
Meanwhile, the Police strengthened the security arrangements for the protection of the pilgrims with the Ratnapura and Nuwara Eliya District Secretariats providing various facilities for the convenience of the devotees.
The Sri Pada Chief Incumbent drew the attention of the pilgrims to Sri Pada to be mindful of the sanctity of the sacred area and to protect the environment. (Ranjith Rajapaksa)