---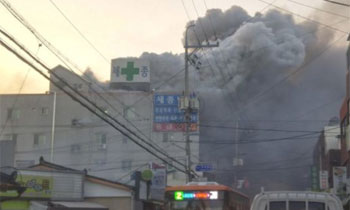 At least 41 people were killed and more than 70 injured in a fire at a hospital in South Korea, BBC reported a short while ago.
The fire is thought to have started in the emergency room at Sejong Hospital in the south-eastern city of Miryang.
About 200 patients had been inside the building and an adjoining nursing home at the time.
It is reported as South Korea's deadliest fire in almost a decade and the toll is expected to rise with several of the injured in critical condition.
Firefighters had told the Yonhap news agency that the victims appeared to have died from smoke inhalation.
Fire chief Choi Man-woo told reporters the cause of the fire was not yet known.
"The victims came both from the hospital and the nursing home. Some died on their way to another hospital," news agency AFP quoted him as saying.
South Korean President Moon Jae-in arranged an emergency meeting to discuss ways of dealing with the fire.
Miryang is about 270km (168 miles) south-east of the capital, Seoul.