---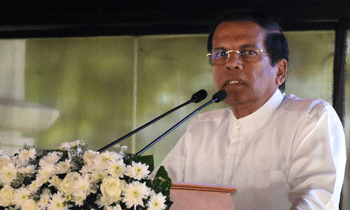 President Maithripala Sirisena today charged that some in the Government are using the media to attack him because he appointed a commission to inquire into the Central Bank Bond issue.
The President was speaking at an event held at the Ape Gama premises in Battaramulla to mark the second death anniversary of Venerable Maduluwawe Sobitha Thera.
"Why did we form a government after toppling a wrong and corrupt regime? It was to do our job properly while pointing the finger at wrongdoers and punishing them.
"A few people are doing wrong analysis about my appointment of a Presidential Commission of Inquiry to look into the Central Bank Bond issue. A very few people in the government are accusing me through websites and Facebook campaigns.
I am attacked by spending money on certain media institutions and by reserving pages in weekend newspapers. I can face attacks coming from both the opposition and government. But those in the government are attacking me because I am working towards the just society that Sobitha Thera expected. He would have paid a tribute to me if he was alive," he said. (Muditha Dayananda)
Video by Janaka